I have used the printable pages from MomsToolBelt.com for six years now. Each year I refine the kinds pages I print and then include in my binder to fit my current needs. This is the beauty of a lifetime membership!
Please note that I am an affiliate for MomsToolBelt.com. I am sharing this product because I love it and highly recommend it!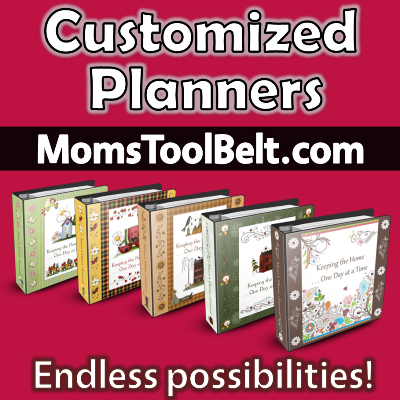 The printable planner, calendars, journal and notebook pages are all included in your membership. I usually spend an hour or so in December each year deciding how to customize the pages I will need for the coming year. When I was a homeschooling mom, keeping things simple was vital and using the same style of planner each year helped me stay organized without reinventing my planner from year to year. This year I cut down on the number of pages in my planner streamlining it even more now that all my children are out on their own.
What have I added this year? Goal pages.  These goal pages in front of me every day will hopefully help me to not forget my long term goals for the year. I love this ability to change up the look of the calendar pages and create a planner that works for my life.
Mom's Tool Belt is offering lifetime memberships for a reasonable price of $24.95.

For the price of one fancy planner or calendar that you could buy at your local office supply store, you could have access to hundreds of printable pages that you can customize for your household use. What does the membership include exactly?
At-A-Glance calendar pages -I use these both for personal and business planning!
Covers and spines to coordinate with your calendar pages
Household budget pages
Lots of homeschool planning and organizational pages
Home maintenance and chore pages
Menu planning (one of my favorite pages) and complete recipe binder pages
Shopping lists and blank lists for all reasons
Medical records
Pages to record goals for the year
These are just a few of the many pages you can print as many times as you want for your planners.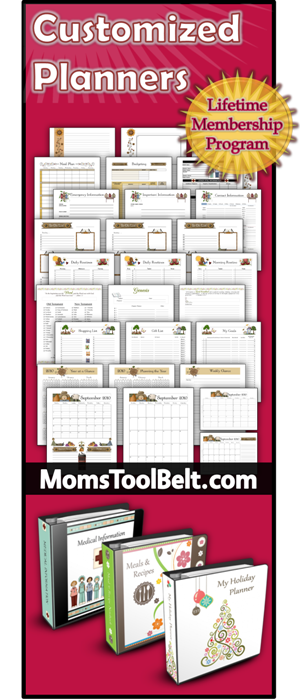 One year I spiral-bound my calendar but I found it worked better for me to use a 3-ring binder because it allowed me to be more flexible. It took me less than 45 minutes to print out and then organize my whole 2016 calendar which included my household pages, homeschooling pages, and my business planner.
I use Post-It tabs to mark my months and insert cardstock markers edged with Washi tape to create reminders for chore lists, prayer lists, and weekly goals. This is just one more way I customize my planner using MomsToolBelt printable pages. Boy it feels good to have the 2016 calendar all ready to go!

You can view this entry to see exactly how I set up my 2012 calendar/planner: Homeschool Planners and Calendars.
I highly recommend Mom's Tool Belt to anyone who wants a flexible, beautiful planner that you can print out year after year. Debra is continually adding new pages and making upgrades and with your lifetime membership you will never need to purchase another planner ever! Don't hesitate…