Thank you to all of the participants. I know this was a busy week for most of you so it was nice to see your sketches in my inbox.  I realize after looking at the slideshow that there is a mix of topics but I decided to leave it that way just for convenience and ease of viewing for all of the Sketch Tuesday families. Enjoy the slideshow!
NOTE: See below for a special discount code for Harmony Fine Arts art and music appreciation plans.
Current assignment: Sketch some mushrooms.
Due Date: Monday, December 4, 2017.
Here is this week's slideshow: Sketch something fragrant.


Note: You may need to click over and view the slideshow on the Flickr website in order to see all the sketches.
All sketchers are welcome and there is no need to sign up. Send in your sketches in jpg format and mail them to: [email protected] by Monday, December 4, 2017 and I will include them in Tuesday's slideshow. Complete instructions are found by clicking the Sketch Tuesday tab at HarmonyFineArts.com.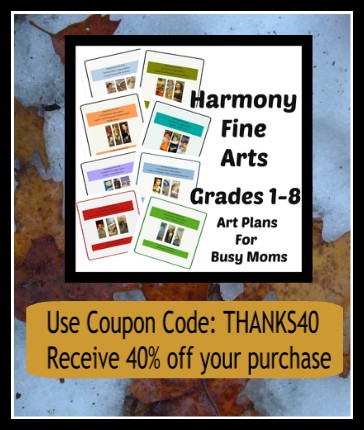 Just a few days left to use the discount code!With the discount code: THANKS40, you will receive 40% off any Harmony Fine Arts plans for grades 1-8. You can easily print a sample, view an example week in action from each grade's description in the store, and see which materials are needed to complete the flexible art and music appreciation plans. Discount applies until 11/30/17.